Vehicle Specific Kit
Vehicle specific kits are designed to be connected into the existing wiring loom in the same way the manufacturer would have made the connections, (no soldering here as can be the case with by-pass systems). Once a kit has been installed it sometimes requires coding using a specialist service tool to activate the features on your vehicle. We use the Westfalia Autocode. In the event that we do not have the coding for your vehicle due to the fact it is a brand new model, it may require a dealer download to activate available features.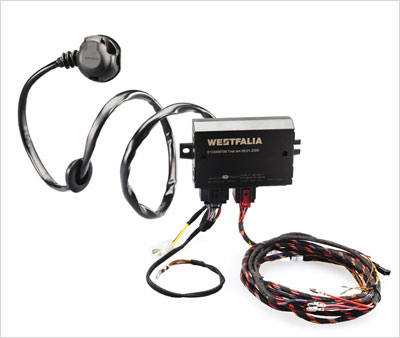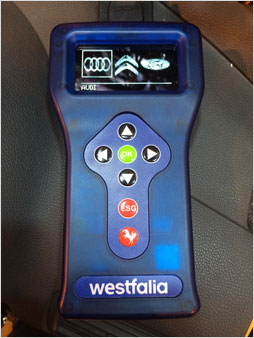 As a guide, depending on vehicle equipment, the following functions may be changed when a vehicle specific kit is installed and coded:
Reversing sensors turned off automatically
The car rear fog light is turned off automatically to prevent glare in rear view
Monitoring of trailer bulbs, notification when a bulb fails on trailer or caravan
Trailer or caravan bulbs continue to work when a vehicle bulb fails
Trailer Stability Program enabled
Adaptive cruise control, braking distances increased
Suspension system
Reversing camera
Park assist systems
Lane change assistant
Blind spot monitoring systems / side assist
Stop start system
Manufacturer's anti theft system also monitors the trailer socket
A vehicle specific wiring solution which 'communicates' with the vehicle as the manufacturer intended is always our recommendation.
Also bear in mind if you lease a vehicle the leasing company may stipulate that a vehicle specific kit is fitted. This is because not only will it employ the features above if present, it can also be easily removed after the lease period leaving no damage behind, as this does not employ invasive electrical connections such as soldering onto the vehicle's lighting circuit. (Soldering is forbidden on the lighting harness by VW, Audi, Skoda and Seat.)
Insurance - to date we are not aware of an insurance company invalidating insurance in event of a claim when a by-pass relay has been fitted instead of a vehicle specific kit. However they are most likely aware of the safety benefits of such systems like TSP (Trailer Stability Program) and may take a dim view in the event of a claim if their customers have requested that such features are by-passed.
Finally, insurance companies do require you to inform them of any modifications to a motor vehicle. We believe that the installation of a towbar would be a modification and you would need to advise them accordingly. Many people forget to do this and risk invalidating their insurance in the event of a claim.