Sortimo Van Racking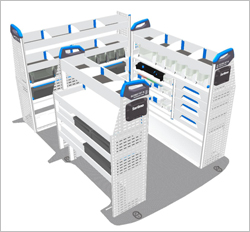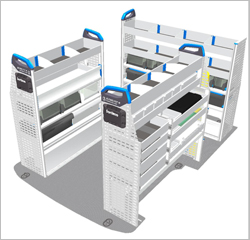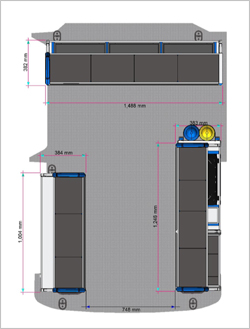 Autow-tech is an installation partner for the whole range of Sortimo products. We can supply and install racking systems from either Sortimo Xpress range, when vehicles require a quick turn around, or alternatively with Sortimo Individual we can design a bespoke system using their modular Globelyst M with 3D cad drawings showing exactly how your installation will look when completed. Around 60% of installations are built this way.
Sortimo lead the way with their professional van racking solutions. When it comes to innovative technology, their modular Globelyst M sets the benchmark in van racking. Using a mixture of steel, aluminium and composite fibre materials it has been possible to make weight savings of up to 50% compared to conventional racking systems which has a positive effect on fuel consumption and useable payload. All materials used in construction are also 100% recyclable at the end of their life cycle.
Autow-tech's top 3 reasons why Sortimo racking should be your first choice for your commercial vehicle are:
Time and cost savings.
How often do you or employees spend searching for the misplaced tool or part? This can easily add up into significant time over a day which has a impact on completing the job on time. With a Sortimo racking system you will become more efficient on every job.
Load and occupant safety.
Sortimo's unique flooring system is fixed down using the existing lashing points in the vehicle's floor and the racking is bolted to this floor and the vehicle sides. This has given Sortimo van racking excellent results in crash testing. In addition to the existing vehicle lashing points further lashing points have been integrated into the racking vertical uprights as standard. This is known as ProSafe.
Light Weight construction
Globelyst M is built on Sortimo's unique aluminium space frame. With a combined mixture of light, high strength steel and composite materials, this gives Sortimo customers the benefit of increased payloads, and a racking system which has great strength and durability.
Here at Autow-tech we can help you find the best solutions for your new racking system. From the initial phone call we can provide the following:
Demonstration vehicle presentation on site
For the Individual range, customised 3D drawings
Short delivery times for our Xpress range
Fixed quotations
Professional installation
We believe Sortimo has one of the largest van racking systems available today. Their reputation for building long lasting racking is backed up by their three year warranty against manufacturing defects. And here at Autow-tech we will also provide you with a three year warranty on the installation as well.
With a racking system from Sortimo, your business will create the right impression with your customer from the moment you open your van doors.
Call us now on 01327 604104 and we will bring our demonstration van to you so you can experience first hand how Sortimo racking can save you time and money.