Caravan Motor Movers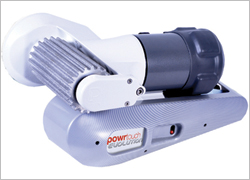 Autow-tech are always looking for ways to improve our customers' towing experience. We have teamed up with the UK's number 1 caravan mover manufacturer Powrtouch to make hitching up a less stressful experience.
The all new Powrtouch Evolution has been designed and built in the UK. This all new caravan mover makes extensive use of light weight materials to reduce impact on payload. The new state of the art "four pole" electric drive motor coupled with an ultra efficient gearbox makes this the lightest and most powerful caravan mover available.
The Powrtouch Evolution has three versions available with either manual or automatic roller engagement:
Power Evolution single axle caravan mover
Will fit all European manufactured single axle caravans. It will drive any single axle caravan up a 1 in 4 slope (25%) regardless of its weight.
Power Evolution twin axle caravan mover
This mover can also drive a twin axle up a 1 in 4 slope with ease. Your decision on which twin axle mover will be based on your space and manoeuvrability requirements. If only gentle turns in a reasonable space are required then this mover will prove satisfactory.
Power Evolution all wheel drive for twin axles
With the addition of a further two driving wheels you now have an all wheel drive caravan mover which will give the highest possible manoeuvrability of a twin axle caravan. This is a must for those tight turns in limited space.
All Powrtouch caravan movers come with a no quibble parts and labour guarantee.
Call us for a quotation on 01327 604104